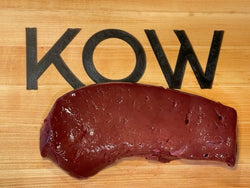 KOW Steaks
American Wagyu Liver
Health experts agree, Beef Liver is one of the most nutritious foods you can eat. Our 100% American Wagyu Beef Liver contains plenty of protein, iron, B vitamins, and It's also one of the best animal-based sources of vitamin A. 
Fry up with onions in a skillet or just serve it up with gravy. Your in for a treat!

 Average weight 16 - 18 oz.